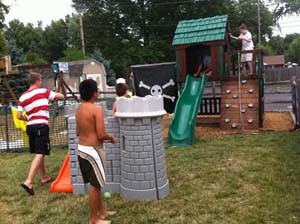 Summer Camp Programs
Unfortunately due to COVID-19 we cannot offer any camp programs this year.  If the guidelines change and we can offer something later in the summer or the year we can notify you. Please fill out a contact form requesting camp information if it become available.  Thank you.
These programs focus on developmental skills including play and social interaction skills using a combination of Sensory Integration and Floortime techniques. A major emphasis will be placed on sensory, motor, cognitive and speech and language development during activities designed to be fun, interactive, and challenging.
Register for Summer Camp Programs here:
The registration form contains a downloadable form that can be completed using Adobe Reader which is a free program that can be downloaded to allow you to complete the form online.
Once this is downloaded open the registration form and type in the information required or by using drop down choices.
Save the form and send it as an attachment to rehabforkids@rehabdynamics.com
OR print form, complete it and scan it and email it OR deliver it in person
Activities Overview
The activities are designed for children who could use additional practice in these areas, or have IFSP, IEP, or personal goals related to the aforementioned areas. Children will be grouped by age and skill levels to ensure that appropriate programming is provided. Typically developing peers will also be integrated into our summer camps as appropriate and available. Ask about having a sibling as a peer at reduced rate. Although described as 'camp' specific developmental goals for each child will be addressed. Staff OT/Speech/Special Educators
Minnows
This group is designed for very young children who have had limited experience in group settings in the past and/or are cautious and hesitant to explore their environment, to separate from their parents or caregivers, and/or interact with peers. They also be hesitant to move and /or talk to others, or play/touch messy things. We will include a variety of sensorimotor activities to help them learn to move, communicate, play and interact with others. Limited size due to staffing requirements.
Staff: OT, Speech, and Special Educators .
Dolphins
This group is appropriate for children who can handle being in a small group setting and enjoy moving and exploring. We will combine a variety of movement and sensory experiences to help with fine and gross and language skill development, as well as assist them to play, share, cooperate, and communicate with peers and adults more effectively. Our goals include helping them find activities that help meet their personal sensory needs and also help them focus on other skill development including interaction, engagement and classroom participation. Cognitive and speech and language goals are also incorporated into the variety of weekly activities. Group size will be limited so we can provide as much intense intervention as possible. Two sections of this program will be available- one for younger children and one for elementary students. 6 or 8 wks.
Staff: OT, Speech, Special Educators
Sharks
This group is appropriate for children who continue to benefit from sensory and motor experiences, but also need a higher level of challenge. It will incorporate many of the sensory and motor opportunities, but also higher-level cognitive challenges and pragmatic skill development. It will include structured games with rules, imaginative and dramatic play, fine motor and handwriting practice, and more reading and language development. Group size is limited so we can provide as much intensive intervention as possible. Minimum of 2 x's per week is recommended due to themes and projects involved in this group. Preschool and Elementary sections available.
Staff: OT, Speech, Special Educators
Stingrays
This group is designed for children who are capable of higher levels of challenges, but also need to focus on essential skills for school success. We will provide more intensive practice with reading and reading comprehension, fine motor skill development including writing, cooperative or dramatic play, as well as activities that address issues regarding winning and loosing during cooperative activities. In addition, pragmatic language skills related to making friends and reading social cues will be incorporated. Children must be capable of attending and focusing in a small group without as much sensory support or supervision, and be able to follow multi-step directions to complete numerous creative activities. 2x's week recommended. 6 or 8 wks.
Staff: OT, Speech, Special Educators
Independent Kids
This group is designed to teach kids social skills and functional daily living skills. The kids will have opportunities to practice social interactions with peers and staff as they learn skills such as preparing their own meals, using tools (hammers, wrenches, drills, etc), organizing materials for a task, setting up and explaining an activity and more. This group is for kids that have the ability to listen and follow multiple step task, read and complete basic written directions, but need some help developing independence. Every other Friday for four weeks.
Staff: OT
Ages: 8-10 and 11-14 (two age sections)
Lunch Bunch
If you child has therapy services scheduled after camp, or is participating in afternoon programs we can help. Join us for lunch! You will need to provide lunch due to the increase in food allergies, but we will help get it ready so that they can enjoy it, then supervise while they relax or play with peers before "getting back to work". Arrangements can be made on a weekly basis for this service.
Staff: Summer Camp Staff
Ages: All